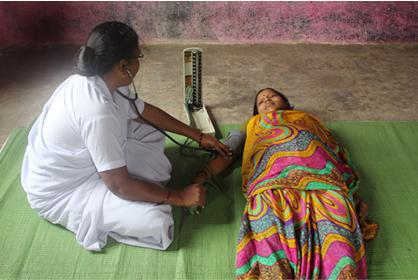 Description:
Mothers under 15 years of age are 5 times more likely to die during pregnancy and childbirth and have an increased risk of miscarriage and complications during pregnancy. They give birth to low birth-weight babies and experience higher neonatal and infant morbidity and mortality.
IHMP's sexual and reproductive health programme for married adolescent girls in villages and urban slums of Maharashtra aims to delay early conception, increase the interval between two births, improve access to health services and protect these girls from complications during pregnancy and reproductive morbidity.
What does IHMP do:
This programme is implemented primarily through community health workers called 'ASHAs' who undertake the following tasks:
Conduct monthly health needs assessment of married adolescent girls and young married women to identify their health and information needs.
Provide information and counseling that is specific to the needs of married adolescent girls and their families.
Prepare a monthly micro-plan specifying the health service needs of each married adolescent girl and young married woman.
Actively link adolescent girls to Government health providers and primary health centres.
Facilitate community based monitoring by Village Health and Sanitation Committees (VHSCs) to ensure that the health needs of girls and young married women are addressed on a timely basis.

Impact after 18 months of intervention was as follows:
Median age at first birth increased at intervention sites from 16.9 years to 18.1 years.
Contraceptive use by married adolescent girls was 33.7% at intervention sites compared to 6.4% at control sites.
Treatment utilised for postnatal and neonatal complications was 78.8% at intervention sites versus 62.0% at control sites.
Treatment taken for Reproductive Tract Infections (RTIs) and Sexually Transmitted Infections (STIs) was 60.4% at intervention sites versus 28.9% at the control sites.
Couples tested for HIV was 58.7% at intervention sites versus 15.8% at control sites.